Estimated reading time 18 minutes, 50 seconds.
Photos by Billy Hardiman
If you open a tap in Phoenix, Arizona, the fresh water you're about to enjoy has just finished a four-day journey from a reservoir high in the mountains east of the city.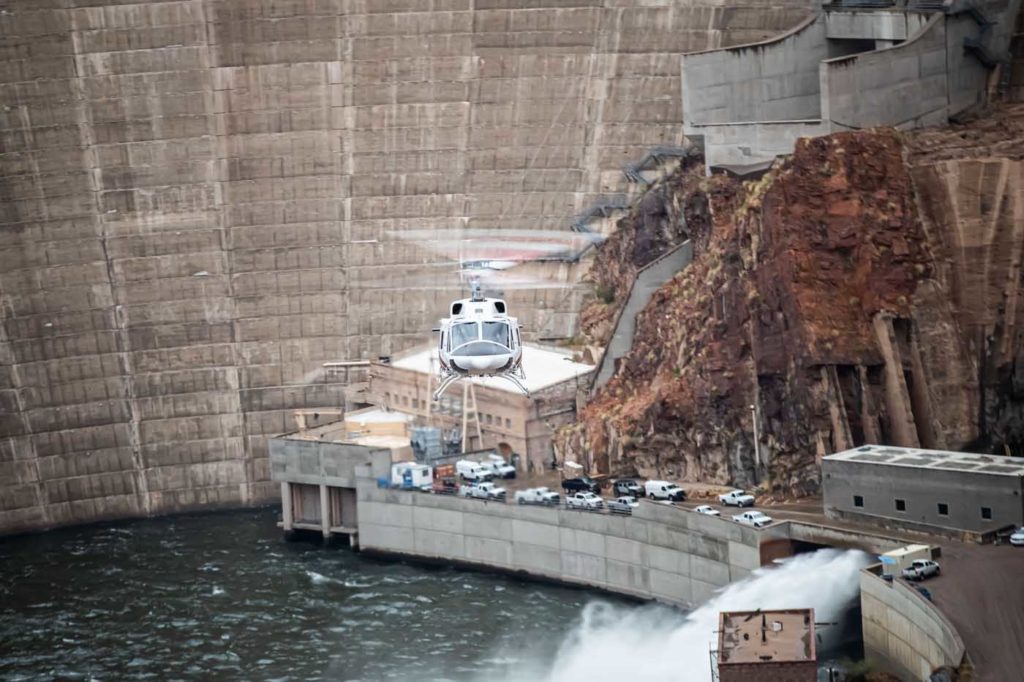 For well over a century, bringing life-giving water and essential electricity to the arid Phoenix region has been the focus of the Salt River Project (SRP). 
SRP has an extensive network of 131 miles (210 kilometers) of canals, seven dams and reservoirs, four hydro-electric generating stations, 13 natural gas and coal-fired powerplants, and over 2,400 miles (3,860 kilometers) of high-voltage transmission lines.
And while SRP's 5,000 employees diligently work to maintain high service levels for its customers, there's a small team of 20 whose contribution to the company punches far above its size.
Aviation Expertise
The Flight Services Department at SRP was established in 1978 with a Beechcraft King Air B200, which flew employee shuttles to the company's outlying powerplants. Three years later, a Bell 206B JetRanger was the first helicopter in SRP's hangar at Phoenix Sky Harbor International Airport (PHX).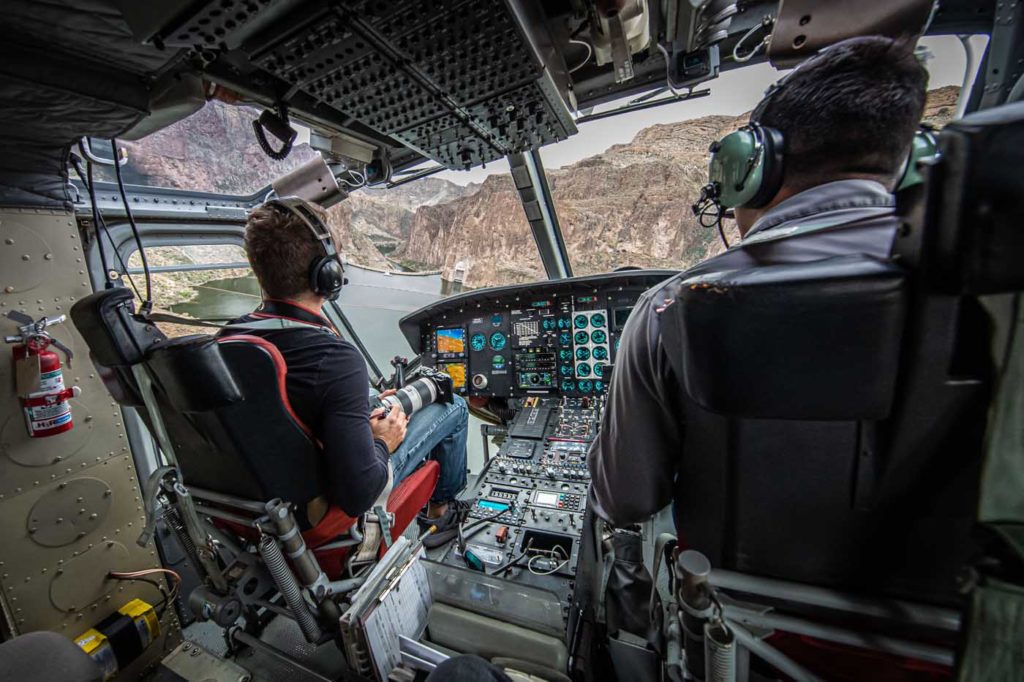 Primarily assigned to patrol powerlines, the JetRanger crew was also tasked to pick up paper punch cards with meter data to expedite the processing of bills for remote customers.
Punch cards are now a thing of the past, and since then the fleet has grown only modestly. SRP now operates three aircraft: a classic Bell 212 medium helicopter, a new Bell 429 light utility machine, and for fixed-wing, longer-range missions, a Cessna Citation 560 Ultra.
"We are the aviation resource for the company. People are looking for us to understand the job they're doing, and to figure out how we can help them accomplish their work safely," Rob Ackerman, the organization's chief helicopter pilot, told Vertical.
To keep SRP humming, its helicopters fly missions east of Phoenix and north to the Utah border, spanning the vast watershed, power generation facilities and transmission infrastructure.
The 40-year-old Bell 212 is a workhorse, handling the kind of flights that are synonymous with the medium utility twin. Hoist work, maintenance of mountaintop communications sites, power pole replacement and pulling wire are just some of the varied tasks assigned to the 212, along with transporting crews to jobs sites.
A mission as seemingly simple as shuttling teams to dam sites has a positive impact on the efficiency and safety of the employees, according to Mark Wegele, flight services manager.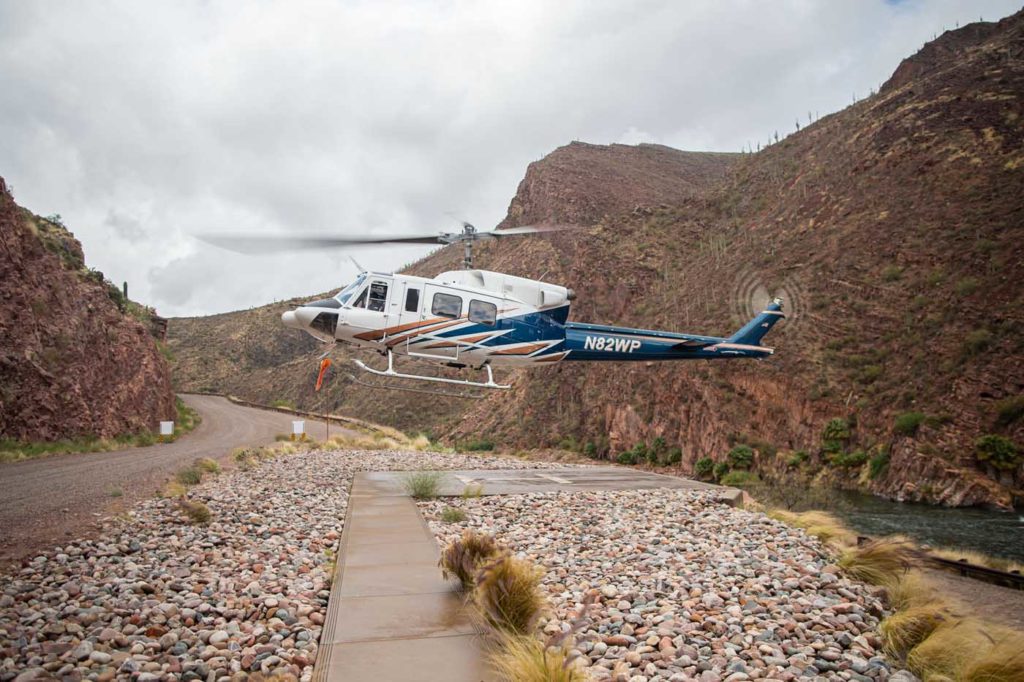 "When we do routine maintenance on the dams, we fly in the crews, sometimes for 12-hour shifts, working around the clock," he said. "The last crew haul we did, we calculated that we saved them [collectively] driving 200,000 miles. They don't have to drive a couple of hours before, and after work when they're tired. They get more productivity, and they stay focused on the job."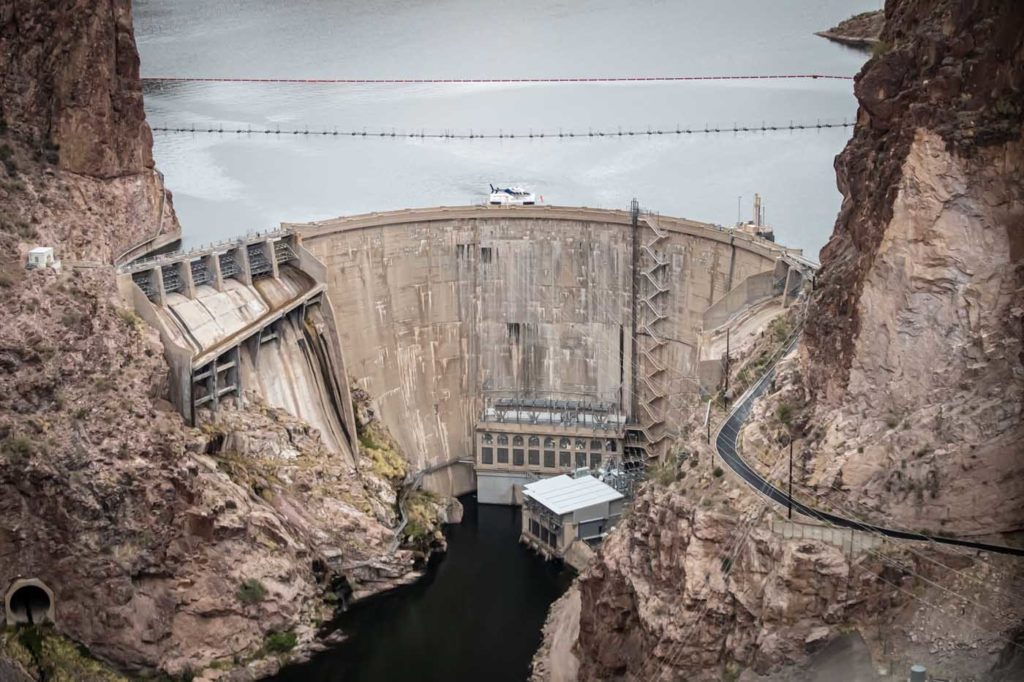 The Bell 429 is a recent addition — acquired directly from the factory in 2017 — and the primary mission of the light twin is powerline patrol. The 429 is also tasked with flying crews into the watershed to do snowpack testing and obtain water samples, along with photogrammetry and cinematography flights.
Although it can't match the 212's heft, the 429 is equipped to do sling loads and hoist operations. The helicopter's powerful public address system is used when water is being released from a dam, with pilots flying up and down the rivers to tell people to move to safe ground.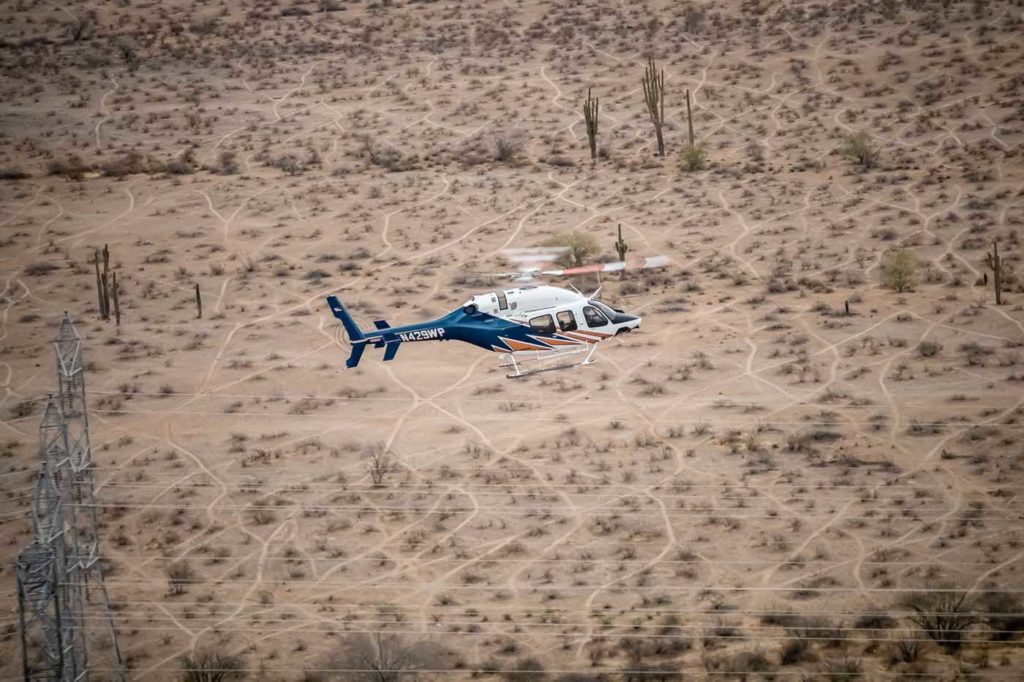 The light Bell is also sent off to research its airborne neighbors — flying the annual eagle survey — with SRP donating the flight time to the Arizona Game and Fish Department.
Very Hot and Very High
Phoenix has long been a popular "sun" destination for people fleeing northern winters. 
But in the summer, the mercury can climb to the top of a thermometer, with temperatures of more than 115 F (46 C).
"When you start throwing in those density altitudes in the summertime, there's a lot of performance calculations because the conditions are so different from what you leave at PHX."
Combining the intense heat with PHX's altitude of 1,180 feet (360 meters) above sea level (ASL) generates extremely high density altitudes (DAs) that can have a serious impact on an aircraft's performance.
From temperature-limited onboard systems to severe reductions in aerodynamic effectiveness, fixed- and rotary-wing aircraft might not be able to complete a mission — or even get off the ground.
And although a tourist's impression of Phoenix may be arid desert, just 40 miles (65 kilometers) east are Arizona's rugged White Mountains, home to SRP's watershed.
"I think our highest area where we land at is right around 11,000 feet [3,350 meters] ASL," said Ackerman. "People picture the desert and saguaro cacti, but there's a lot of Ponderosa forest above 6,000 feet [1,830 meters]. When you start throwing in those density altitudes in the summertime, there's a lot of performance calculations because the conditions are so different from what you leave at PHX."
With a strong, long-standing safety culture, SRP recognized the risk of single-engine helicopter operations for its missions and has committed to operate only twin-engine aircraft.
But even a medium twin like the Bell 212 can run into performance limitations due to high DAs, explained Will Barks, chief of maintenance.
"There are areas with three parallel 500 kVA power lines, for miles, going across the desert. When you're inspecting the center set of those lines, and you have an engine problem, there's nowhere to go but down."
Barks joined SRP in 2000 after serving in the U.S. Marine Corps, where he maintained a vastly different VTOL aircraft — the McDonnell Douglas AV-8B Harrier.
"I was a turbine engine overhaul mechanic and line mechanic on the Harrier and deployed all over the world through all of Operations Desert Shield and Desert Storm," he said.
With his powerplant expertise, Barks was hired by SRP to join the final stages of a project to re-engine its Bell 212, giving the machine much improved single-engine performance.
Led by former chief of maintenance Harold Munger and former chief helicopter pilot Bob Culver, SRP's team designed an in-house supplemental type certificate (STC) to replace the 212's standard Pratt & Whitney Canada PT6T-3B TwinPac engine with the -3DF powerplant from the Bell 412.
"We were the first people to do that, we did that all in-house, here in our little hangar. Now, on one engine, we can climb away from a power line at about 300 feet per minute," said Barks.
Training for Safety
Barks manages four mechanics in his Federal Aviation Administration (FAA) part 91 shop, but doesn't take any external work — there's plenty to do keeping SRP's helicopters and jet airworthy.
"All of the inspections we can do on the helicopters, we do in-house, and we do rotor head assembly and tail rotor gearbox overhauls. On the Citation Ultra we handle everything including the phase five inspection and repairs."
That isn't to say that his team is always turning wrenches on aircraft — they're also trained to be airborne, supporting SRP's missions.
"Three of my mechanics are signed off to be hoist operators and observers when we're doing construction work," said Barks.  
With more than 20 years at SRP, Barks is highly complementary of the company's backing of his department.
"SRP has been a phenomenal supporter of maintaining the aircraft and keeping my mechanics trained. We budget 12 days per year per mechanic for factory schools."
That philosophy extends to Ackerman's team of five full-time and four contract pilots who annually head to FlightSafety and Bell for recurrent training, exemplifying SRP's safety culture.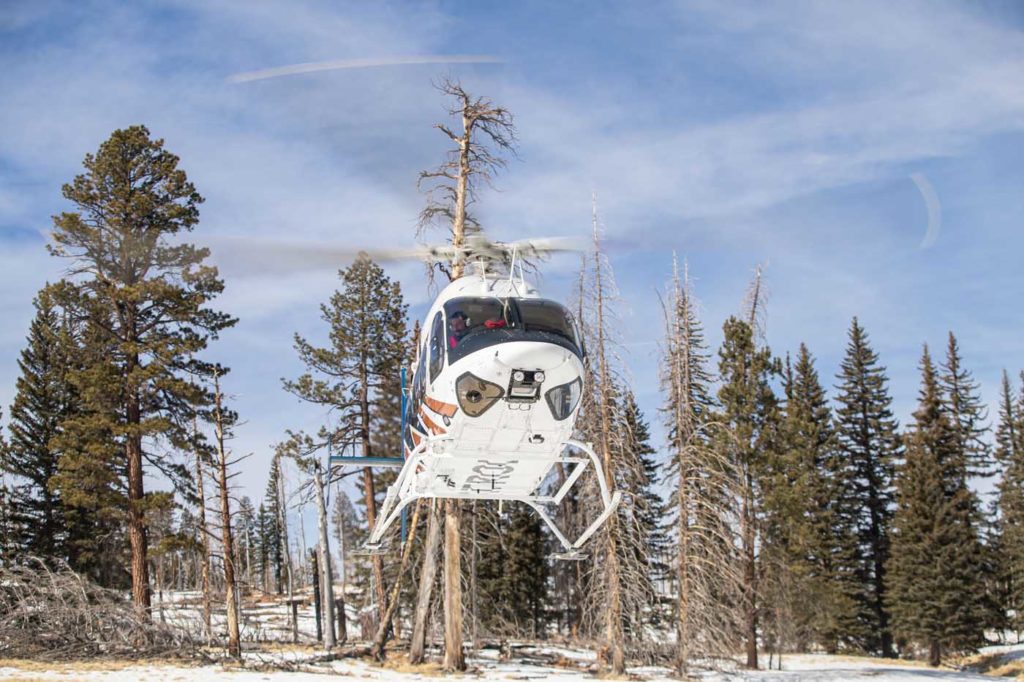 With more than 30 years as an aviation professional, Ackerman recognizes the importance of the authority he has been given by SRP.
"The company's safety culture is not just in words. I've canceled or modified a lot of plans in the last 12 years, and I really like that the company pays me to know when to say 'no,' without any pushback.
I've canceled flights with the CEO of the company, and the CEO has said, 'Thanks for making that decision.' "
With only two helicopters, Ackerman's cadre of pilots has stayed small, but vastly experienced. They typically arrive at SRP with 15 to 20 years in aviation. 
In the rare times when he's looking for a new person to join his team, Ackerman believes that looking at a logbook only shows one aspect of a pilot's abilities.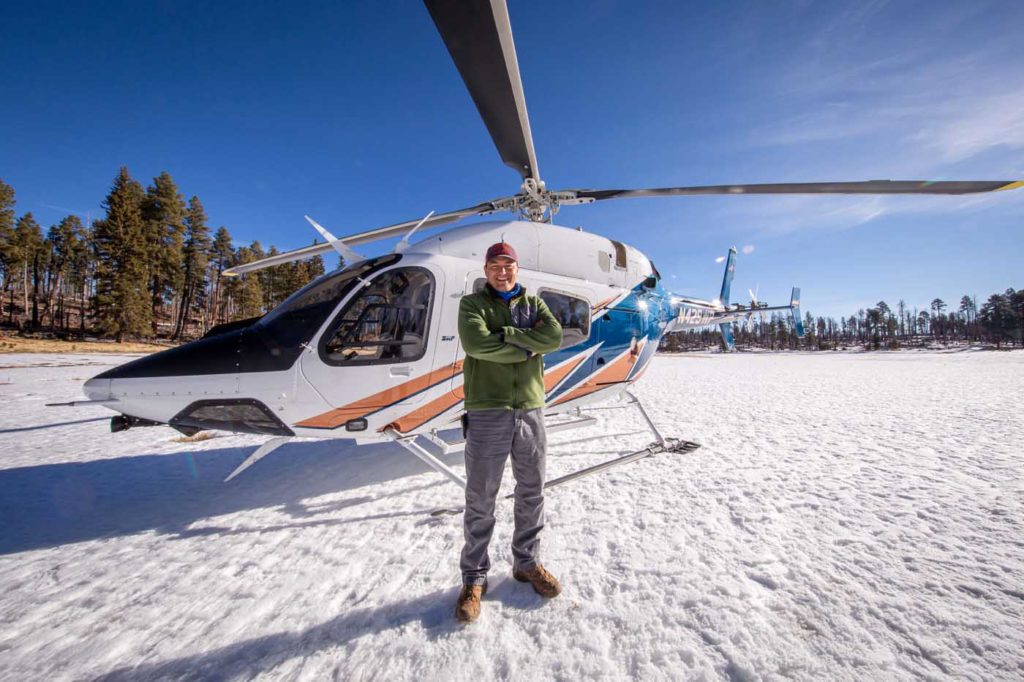 "I feel years of experience in professional aviation is just as important as hours. Whether you flew 200 or 800 hours a year, you're around aviation and safety discussions. You're learning from other people's mistakes, studying accidents."
With most missions flown single-pilot, Ackerman said that a pilot's ability to professionally interact with other SRP teams is key.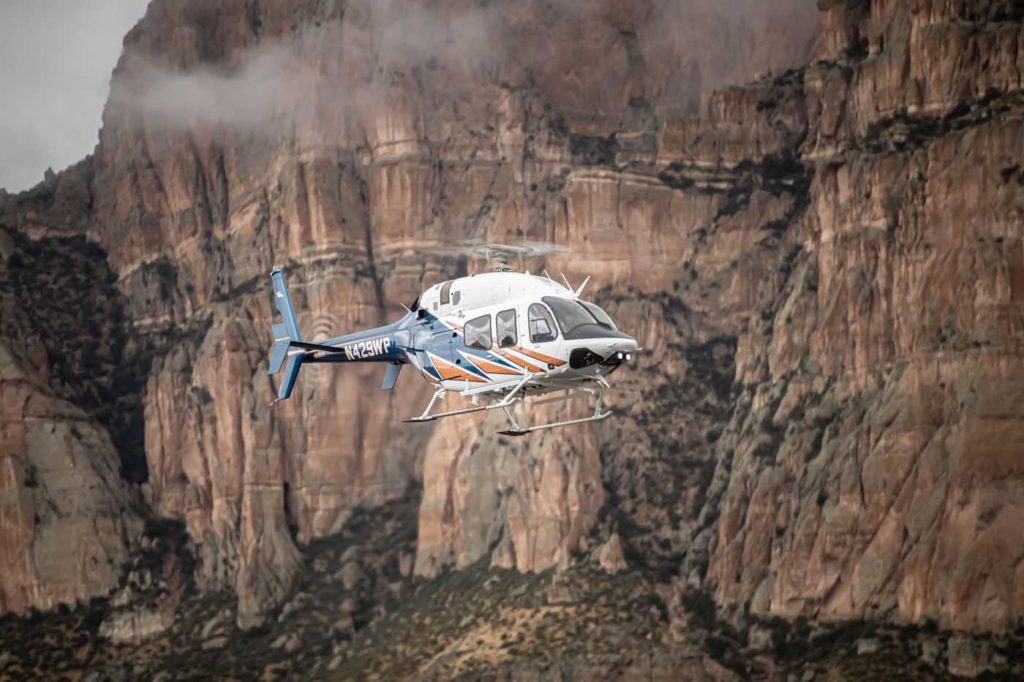 "We're looking for someone who has a deep enough aviation experience to make safe and smart decisions," he said.
New arrivals first fly with experienced pilots to familiarize themselves with SRP's assets, and that includes flying the entire transmission line network before heading out on solo patrols — a process that can take two years or more.
Drones — in the air and underwater
Drones are a recent addition to SRPs fleet, after the company examined how other utilities were deploying the technology.
"SRP made the decision, and I think it was a wise decision, that the flight department had to be in charge of drone operations. The company recognized that it is an aviation operation, and to do it to aviation standards," said Ackerman.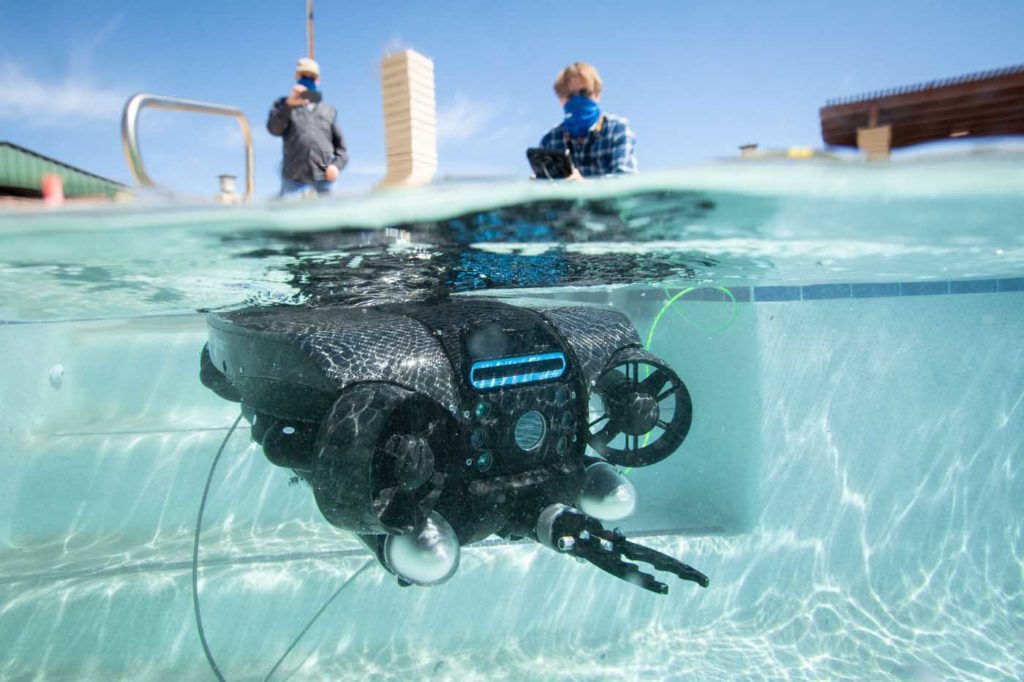 Currently, there are six DJI units, a BirdsEyeView Aerobotics FireFLY6 and a Flyability Elios 2 in SRP's aerial drone fleet.
"I know we're called the flight department, but we also operate underwater drones," explained Wegele.
Three Deep Trekker ROVs — remotely operated underwater vehicles — are used to inspect SRP's dams and keep an eye out for debris that could get sucked into a powerplant's turbines, resulting in costly repairs and downtime.
One of the department's mechanics, a fixed-wing pilot and a helicopter pilot are certified as FAA part 107 pilots, along with an employee who was hired solely for drone operations.
SRP is finding that assigning drones on certain missions can be more efficient, save time and money, and bring a new level of safety to some operations.
"With the Elios 2, which is a drone inside of a cage, we can do inspections of boiler stacks," said Wegele. "And we used to set up scaffolding to do inspections of the penstocks on the dams. Now, with a drone, we can do it in a couple of hours."
Another use is as a vegetation management tool, identifying locations for tree trimming. Drones equipped with temperature sensors can also quickly find overheating transformers atop power poles, a job that would have previously been time-consuming for a bucket truck crew.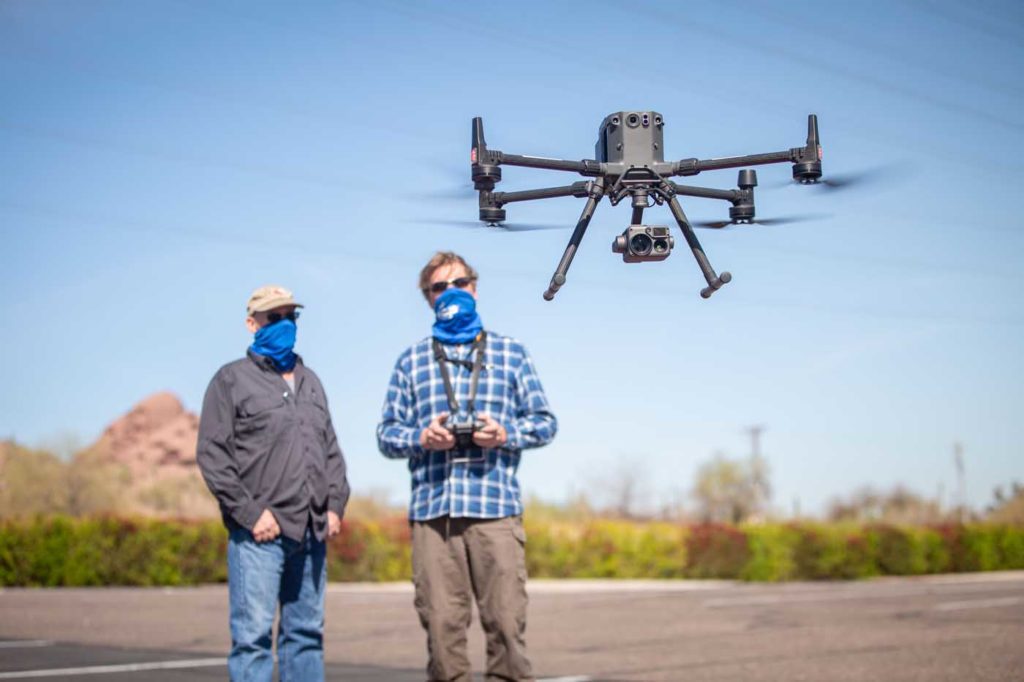 Wegele said that the drones complement SRP's piloted aircraft operations and expects that the program will "keep growing as other departments see that we have the tools that could solve their issues."
Staying at SRP
Together, Wegele, Ackerman and Barks have been with SRP for over 40 years, and their longevity with the Flight Services Department is more the norm than the exception.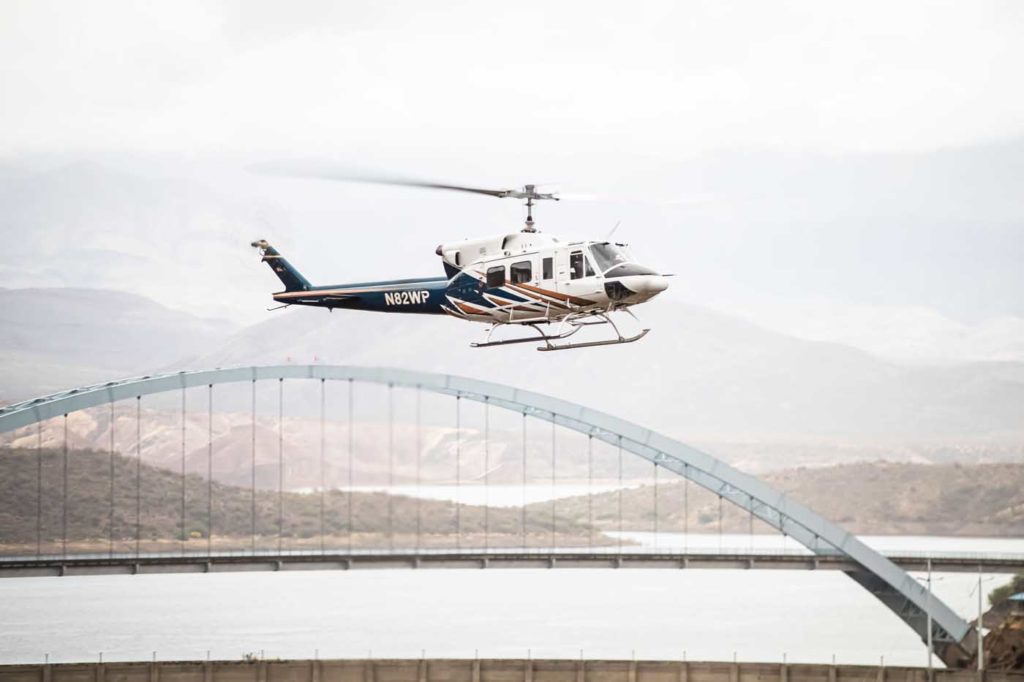 "I love the company, the history, and the people I work with," said Barks. "They care about their employees and families."
Wegele points to the passion that his small, skilled department brings to its work.
"The team that we have here not only loves aviation, but everyone works together. SRP might be a big company, but they take care of you."