Undergraduate students at Suffolk University are eligible to become certified in Drone Operations through a new program that helps them enhance their skills through research and hands-on training of professional-level drones.
The Drone Operations Certificate was championed by former Dean Maria Toyoda in 2016 and officially created in Spring 2019, giving Suffolk a five year history of working with drones. The school acquired the equipment five years ago, but classes did not start until spring 2019. Students were not able to be certified during online classes because they could not practice flying.
Since then, Suffolk's drone capabilities have been managed and built out by Scott Lussier and Dr. Pat Hogan from the university's Center for Urban Ecology and Sustainability and Dr. Monika Raesch from the communication, journalism and media department.
"With this certification, the market can be confident that a Suffolk student is well versed in drone technology," said Lussier. "Many companies will be adding drone technology to their workflows and Suffolk students will be ready to fill that need."
One senior, Daneila Avila, uses her knowledge from the drone program in her workflow as a real estate photographer. Avila obtained her license on her own in April after taking one of Lussier's drone classes in the spring.
"I took a pre-flight class last semester with [Lussier ] that helped you prepare for the exam. After that class I was able to go to a flight school and obtain my license," said Avila.
The CJN department maintains and oversees the drone equipment, alongside the video equipment that they have managed for years. Additional support from the Risk Management Office was crucial for ensuring an effective system, managing any damage, theft and accident reports.
To become certified, students must complete UES-107 – Introduction to Drones with its associated Lab, UES-L108 – Drone Flight School, which prepares students for their Federal Aviation Administration drone license, and a 300 level, 4-credit drone course. 
Part of the goal of the advanced courses is to develop a portfolio piece. When completed, students will have a project summary online, the topic being either an aerial environmental map or a drone videography clip, depending on the course. If enrolled in these courses, students will be allowed to check out and fly Suffolk's dozen or so drones. 
While much of the learning relies on hands-on experience of flying drones, finding a location to practice has been a challenge due to the location of Suffolk's Boston campus, which is next to the Massachusetts Statehouse and its close proximity to a major airport, which would create a safety hazard as it interferes with air traffic.
As a result, students and faculty travel to off-campus locations, including ​​the Massachusetts Audubon's Rough Meadows Wildlife Sanctuary in Rowley, the Tompson Street Reservation in Gloucester and the Simpson Spring Facility in Easton. 
They also fly around the CUES Center, located on the fifth floor of the Samia Academic Center, with small Tello drones to learn flight skills and are even able to fly virtually with the department's DJI Drone Flight Simulator.
Derek Goodwin, a freshman management student, enrolled in the program to fulfill the technology requirements for his degree. 
"[The program] hasn't disappointed at all," Goodwin said. "It takes aviation and puts it in your pocket."
Once a week, Goodwin is able to practice fully operating and controlling drones as part of the lab. He referred to the program as a fun and interactive way to become a pilot.
Goodwin recommends this program to any student who has ever considered flying.  Even if you're afraid of heights, this program doesn't require you to actually fly in the air to be considered a drone pilot.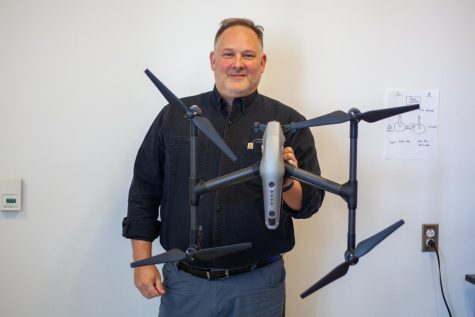 "I really enjoy being hands-on with the drones," Goodwin said. "It teaches you the basics of aviation ground school with a cutting edge drone technology that is growing exponentially in the commercial world."
Drones have become an effective tool for various industries and continue to grow rapidly in popularity as its technology develops. Business Insider Magazine estimates that the drone services market size is expected to grow to $63.6 billion in 2025 and that consumer drone shipments will hit 29 million by the end of 2021. 
As of Fall 2021, no students have been awarded the program's certificate, but many are anticipated in the coming years.
"It's our hope in the coming years to launch many new student and faculty pilots and to put these amazing tools to work," Lussier said. "We are always on the lookout for interested students, existing pilots and faculty looking to add drone data to their research. Come fly with us!"
Further information about this program can be found here.
Follow Alyssa on Twitter @alyssa_auger