A criminal suspect running and hiding from police who are uncertain if the culprit is armed.
A missing person lost in dense and dangerous woodlands. 
Search-and-rescue missions after a devastating hurricane. 
Scenarios like these demand a lot of time and resources from law enforcement agencies, and sometimes put their sworn personnel and other emergency responders at risk.
To tilt the scales of success and safety in its favor, the Citrus County Sheriff's Office (CCSO) has been putting some high-tech eyes in the sky: drones.
"Some of this stuff's going to be quite intuitive," Sheriff Mike Prendergast said, "but the other things, as this program evolves, we'll learn more and figure out better ways to take that asset and deploy it to save more lives and protect people and their property."
At the moment, the agency's drone program fleet is made up of four quadcopters — or drones with a set of four propellers.
Lee Carey, a patrol lieutenant, is one of eight CCSO drone operators (soon to be nine) certified as remote pilots under the Federal Aviation Administration, or FAA. Citizens and law enforcement members alike take the same grueling FAA exam.
"It is an extremely difficult test," Carey said. "It's an aeronautics class that's very similar to a pilot's license so there are a lot of questions on there about runway trajectory, windspeed, altitude … and mapping."
Each of the EVO II Pro drones — developed by Autel Robotics — the sheriff's office bought in 2020. 
"As technology's been advancing," Carey said, "it's something we've always looked at."
A base EVO II Pro model with a high-definition camera mounted on a 360-degree gimbal cost the sheriff's office around $1,000, Carey said.
With videos so crisp, Carey said, the drones can help deputies determine before an encounter if someone has either a weapon or something much less lethal in their hands.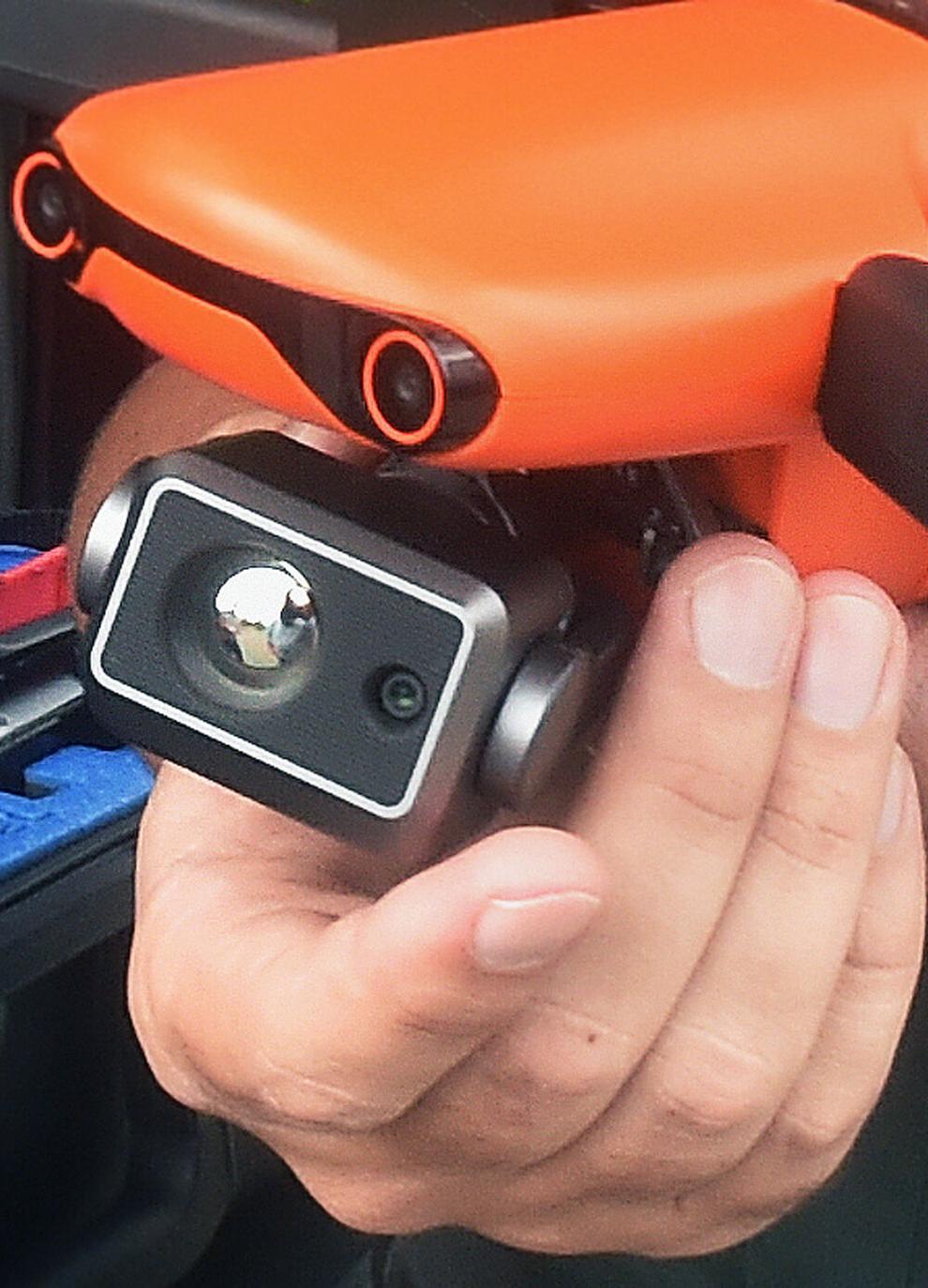 A pair of drones are equipped with thermal-imaging or FLIR (forward looking infrared) cameras. These devices separate heat sources from other surroundings, making it easier for hiding or lost people to be found amongst foliage or the night.
"It's very similar to the quality of our helicopter," Carey said, adding he was able to spot the outline of a squirrel's tail in a tree while he was using a drone to find a missing person. "It's pretty fascinating, phenomenal stuff we have."
Installing a FLIR on a drone increased the price of the drone package up to roughly $8,000, Carey said.
"But you compare that to our helicopter, which burns up to $300 of fuel an hour," he said, "so it's meant to supplement aviation."
With its faint buzzing, drones are also much quieter to helicopters. 
If all goes well with the preflight checklist, it takes around 10 minutes for an operator to unfold their drone's two-foot wingspan and get it airborne.
"The purpose of the drone is rapid deployment," Carey said.
To fly the drone, a pilot attaches and connects their cellphone to a handheld, wireless joystick — similar to a PlayStation controller.
"That's the reason us nerds are so great at flying the drones," Carey said before laughing.
Whatever the drone camera captures is transmitted to the screen of its operator's cellphone above their controls. 
Images can also be mirrored to TV screens CCSO lieutenants have in the back of their patrol SUVs. This allows scene commanders to watch what's unfolding without crowding a drone pilot and their small cellphone screen.
EVO II Pro drones have a maximum transmission range of 5.5 miles from its pilot, but the FAA limits the distance between a drone and its operator to within eyeshot.
However, Carey said, there are exceptions to the rule if life-threatening occasions warrant such use. 
FAA regulations also prohibit drones from flying 400 feet above ground level.
"Of course we can go higher than that in exigent circumstances," Carey said, "or to avoid a collision and stuff like that."
To stop its CCSO pilots from striking or colliding with objects, trees and power lines, the drones are stocked with a dozen visual sensors.
CCSO drones can also automatically follow and hover behind a tracked target, Carey said. 
Drones can be limited by stormy weather and battery life. On one charge, depending on the strength of winds, the CCSO drones have a maximum flight time of 40 minutes. They're also resistant to wind speeds up to 39 mph.
This means using a drone to fly miles off the coast of Citrus County to search for an overdue boater would be illogical. 
"This program is intended to complement the other aviation assets in the agency, not to replace those assets," Prendergast said. "There's a lot of things you can not do with a drone you can certainly do with a helicopter."
So far, CCSO drones have been used to help find missing people.
Prendergast said he wants to enhance his agency's drone program by doubling its numbers and growing its capabilities, like assessing disasters and locating survivors amid the destruction.
"It's pretty priceless information," he said.
Prendergast has also been pursuing policies and legislation to allow footage from CCSO drones to be used in criminal investigations and as evidence in court.
However, storing swaths of digital data for long periods of time as cases proceed through the justice system can be expensive.
Prendergast said the sheriff's office is looking into affordable yet efficient solutions around those obstacles.
"I'm going to expand it more," he said about the drone program, "and I'm going to expand it smartly … to be a true force-multiplier and very cost-effective force-multiplier for the office of the sheriff and taking care of business here."