Porsche MEA recently celebrated the launch of its all-electric Taycan Cross Turismo with a video that shows the car being pushed to its limits in two remote locations with contrasting climatic extremes. FPV (flying first-person view) pilot Johnny Schaer worked with Emmy-winning film director Nicholas Schrunk to create some exceptional drone cinematography capturing epic driving moments, extreme landscapes and compelling human performances. He shares his experience with BroadcastPro ME.
Two identical racetracks, one in the sandy desert in Liwa (the UAE) and the other on a snow-blanketed frozen lake north of the Arctic Circle in Levi (Finland), served as the locations for a project titled Drive2Extremes which saw the Taycan Cross Turismo power between two contrasting worlds. Porsche MEA CEO Dr Manfred Braeunl called the launch video "innovative, exciting and bursting with Porsche DNA".
Taking the viewer on this visual journey was the FPV drone videography of Johnny Schaer, lauded as one of the world's top drone pilots and better known as Johnny FPV. Schaer and Nicholas Schrunk linked seamlessly with professional racing driver and Porsche driving instructor Jukka Honkavuori to create the edit, captured between the biting cold of Levi and the blistering heat of Liwa. Johnny FPV answers our queries.
What is your relationship to cars?
I got into cars through filming with the FPV drone a few years back and have been really interested in them ever since. During the filming for the Drive2Extremes campaign, I was lucky to get an extra shot of adrenaline when I tested the Taycan Cross Turismo on the ice track in Finland. That was such a crazy moment and so much fun!
Drive2Extremes was a project of many extremes and firsts. This is the first time you have cooperated with a motoring brand for a film project, and it is also the first production in the industry to be solely filmed using FPV drone cinematography. What interested you in this project?
I love to challenge myself, and something this bold caught my attention straight away. I love to film cars that are immersed in nature and spitting up material, whether they're drifting on ice in Finland or on sand in Liwa. Creating some amazing content is what I'm after, and it was definitely one of the most incredible projects I've ever worked on.
What were the biggest challenges with regard to filming in Finland and Abu Dhabi?
Working in the cold where your fingers are frozen was tricky, but we were lucky to have an incredible support team that provided us with portable heaters! Also, the equipment would get hit with ice which would then again melt, causing the drones to have some electronic issues. Filming in the desert also presented some challenges, like getting hit by rocks and pebbles that were shooting up from the car as it drifted. We were breaking a lot of propellers at the start because of this, but then switched to more durable ones eventually. All in all, I would say that Finland was slightly tougher than Liwa, but they were both challenging in their own ways.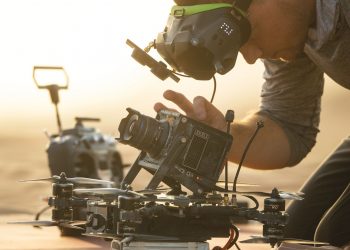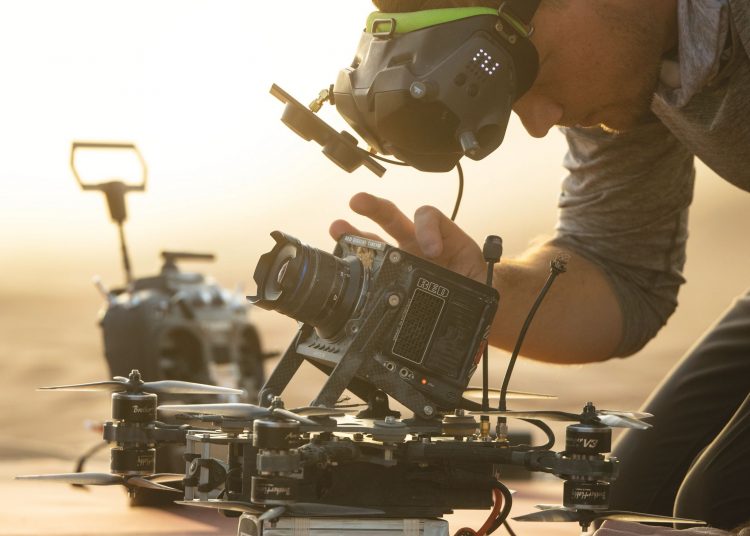 Under extreme weather conditions and environments, the Porsche Taycan Cross Turismo drove over 1,000km on both tracks, which you were tasked to capture in the most creative way. What special preparation was required? What drones and cameras did you use?
For me, the most important focus was that my gear would be capable of withstanding the extreme weather conditions. It was uncharted territory for me. The car was spraying up a lot of material and hitting the drone with either sand or ice, because we were filming so close. So my preparations were as simple as just bring many drones and spare parts, so we wouldn't be stuck in case of a crash.
This type of project was a first for me. Traditionally with FPV drones, they would be used exclusively with tiny action cameras like a GoPro. For Drive2Extremes, I actually designed and built new drones that are more powerful, a bit bigger and able to carry cinema cameras. We used the new RED Komodo cinema camera, which is quite a compact one. It really took the videography to another level from a technical and filmmaking standpoint.
Agility is quite challenging with bigger drones, but mine performed really well. The chassis for the drone itself was a fresh custom design that was created just for the project. It was cut with CNC machines in Canada, and shipped in for further build-up and testing just some weeks before the project.
I'm quite proud of how it all turned out and what the equipment was able to do. I will definitely be using the same tech in my future jobs.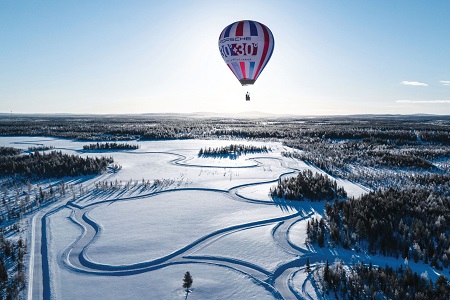 This project involved filming a fast-moving car driven by Finnish GT3 Cup champion Jukka Honkavuori. What were the biggest challenges, and how did you work together to solve them?
Jukka's driving skills are incredible, and it was really impressive to see how easily he adapted to the different tracks, which made my job easier. He drove the car extremely well with a lot of passion. When the subject looks cool, it makes my job a lot easier. There were some challenges from the technical side of things, including keeping the equipment working when it was getting hammered by the sand and the ice, but Jukka was very patient and drove flawlessly. Thankfully, we had practice days at each location.
The first day was all about figuring out how the car would drive and how fast it would go. After doing that, I synced the speed of the car with the drone speed, as long as Jukka's driving was consistent – and he was always consistent!
What did you learn from the project?
Technical things, mostly, like how to adapt to extreme conditions when filming and having an excessive amount of drones. Going into the project, I didn't expect to be in the action so much, and with that I mean just getting blasted with a lot of sand or ice basically every second of the shoot. I had to make sure I had enough drones to withstand the pressure. I also realised how important the production planning was. Everything was super organised and everyone was on the same page, so I really just had to plug in my drone, take it in the air and start shooting the Taycan.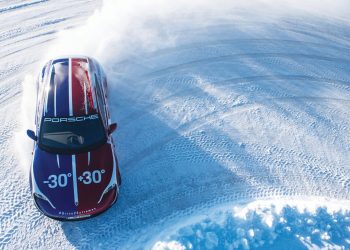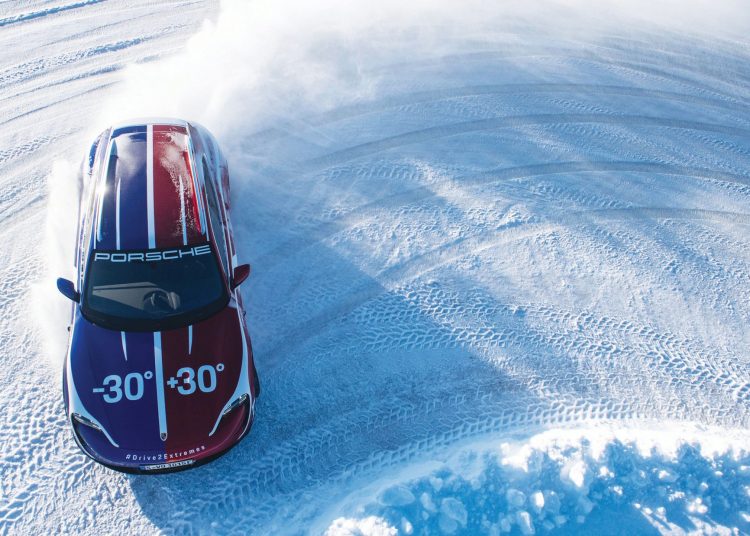 Compared to past projects, what made this one special?
The production team literally built a racetrack in the desert, and to film it was such a special moment. It was a project to remember, and one that is very hard to top.
What advice would you give to aspiring creators?
The most important thing you can do in the creative field is doing something unique, even if it's a slight change to something someone else has already done and putting your own signature on it. That's the best way to stand out, get recognition and expand your opportunities. Utilise social media and get in front of as many eyeballs as possible – and if you're lucky it'll become a monster on its own, with fans sharing your content. Social media is a powerful tool any content creator should take advantage of.
Where's the best place to look for advice and guidance as a drone pilot beginner? What's the best way to start?
The best thing is to absorb as much info as possible. For example, if it's FPV drones you want to know about, make sure you consume all FPV drone material on YouTube to see the different types of drones, how to build your own one, how to pilot them and so much more. Immerse yourself in that world and with so much content out there on the internet, you can easily master something quite quickly. Then practise as much as you can to develop your skills, start off with simulators online to avoid crashing, and then get into the real flying of drones.
You are no stranger to the UAE – your drone dive video of the Burj Khalifa has received over two million views. What were the challenges of recording at one of the world's most iconic buildings?
With the Burj Khalifa video, Dubai Film approached me to see if I'd be interested in shooting it. Diving or flying down the sides of tall skyscrapers has always been a key part of FPV. A few years ago I used to fly around skyscrapers in Miami, and it's one of the unique things I've become known for. I was fortunate to have been invited by the Dubai Film team to film for Sheikh Hamdan. It was a tough shoot because drones don't have unlimited range. In the case of the Burj Khalifa, we had to calculate the altitude and distance that a drone can go, keeping in mind other aspects such as the wind. Shooting in the harsh lighting at that time of day when we had all necessary approvals was also a challenge, but we've managed to get incredible shots which I'm very proud of!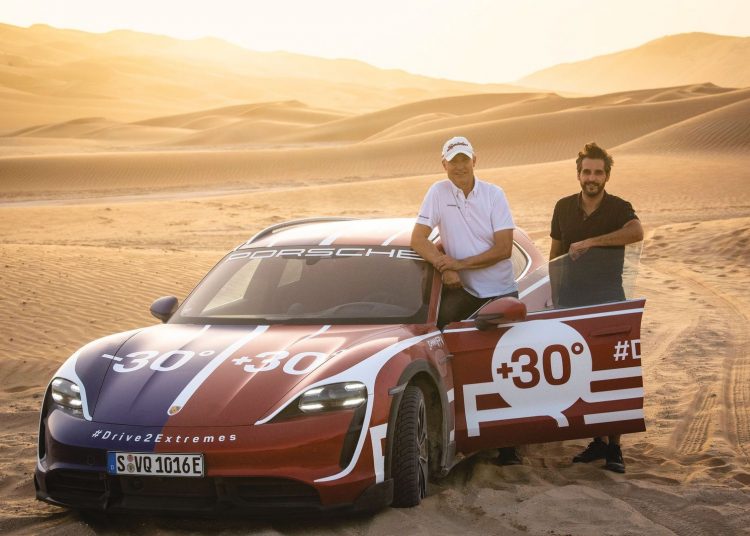 What is the one piece of tech you take wherever you go, and why?
I guess the simple answer is my cell phone. But from my work as an FPV drone pilot and heavily inspired by Drive2Extremes, it would be a wicked slow-motion camera for epic shots. During the project, we were shooting with 4K, 400fps, which is pretty remarkable. It makes a huge difference.
What about the growth of the drone industry over the last three to five years? How has it developed, and where do you see its future?
The FPV development has been rapid; everything from how smooth the drone flies to how it moves. If you told me that I could have a cinema camera in an FPV four years ago, I wouldn't have believed it. Camera technology is getting more efficient and better in general. It's hard to predict the future in drone development, but I guess batteries will improve, meaning drones will fly for longer. Seeing how drones play a role in the real world, for things like inspections, search and rescue or agriculture, will also be really interesting.
Where do you see yourself in five years, as you reach your thirties?
I've always wanted to be part of a Hollywood filming production, and luckily for me it looks like these opportunities are starting to happen. In five years, one of my biggest goals is to make some real contributions to the film industry – so not just to shoot a small bit of a movie but to really film an entire scene, like an amazing intro of a movie that really captures the audience's attention. Those sorts of things that are really memorable. And then, beyond filming, I'd also like to build my own drone company where people can buy my drones. Let's see.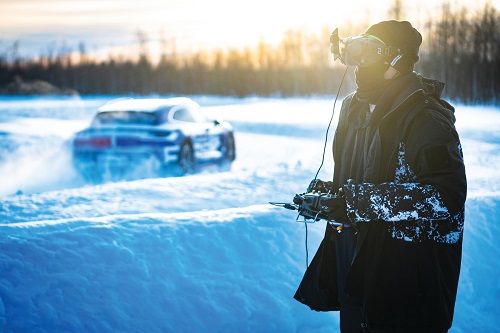 How do you see your competition evolving as an FPV filmmaker?
Being a professional FPV filmmaker is something new. When I first started filming about two years ago, it was something different, something niche. Maybe it was just myself and maybe one or two other people. Now fast forward, now there are definitely a lot more people doing it on a professional level. So the industry is definitely growing. I guess it's my job to try and deliver even better work, try and do something that is even more unexpected. It's all good for the growth of the industry. So I encourage people to do amazing things with their FPV drones.
What would you consider a dream project?
I love filming fast cars in wild environments where the car is spitting up material, it just helps in creating amazing images. So a dream project might be to fly a drone down a pyramid and then carve a way and catch a legendary race car, maybe from Formula 1, drifting in the sand or something like that. That said, every project has its unexpected greatness that is unveiled through the process of filming and trial and error. I think there are legendary moments in all kinds of projects, independent of their size.