PUBLISHED
July 18, 2021


KARACHI:

For the Taliban, the mere mention of "drone" has long conjured up images of flying, buzzing death, and rightly so. They lost some of their senior leaders in US drone strikes in the border regions of Pakistan and Afghanistan. The drones were perhaps one US weapon they dreaded the most, for these remotely-piloted 'Predators' carrying 'Hellfire' could incinerate their unsuspecting target with pinpoint accuracy. The drone became the most potent weapon in the US hunt for al Qaeda and the Taliban, though the untenable collateral damage made it highly controversial. The Taliban might always have envied these sophisticated machines which require a massive amount of money, time and technological knowhow to develop and fly. But easy-fly, easy-buy hobby drones could help overcome this asymmetry. Though these off-the-shelf UAVs are not weaponised and have a range of hardly a few hundred yards, a little engineering could easily turn them into homemade flying bombs.
The Taliban in Afghanistan have been using commercially available quadcopters for surveillance and aerial shooting of their attacks for propaganda videos since early 2016. But now they appear to have started improvising these benign drones for combat roles. A short video clip shared by their spokesperson Zabihullah Mujahid on Twitter earlier this month showed a purported attack on an airport in the northern province of Kunduz. Apparently shot with a drone, the video shows a dense column of black smoke billowing upwards from what the description claims are two UH-60A Black Hawk helicopters of the Afghan air force destroyed in the attack. The video was released after Kabul denied the incident had happened. Mujahid only described it as a "tactical attack", but pro-Taliban Twitter handles called it a "drone strike". A few days later, Mujahid shared on Twitter purported images of a second "tactical attack" also on Kunduz airport in which, according to him, a third Black Hawk was neutralised.
Afghan security officials, however, claim that the use of weaponised drones by the insurgents is not a new phenomenon. In November last year, Afghanistan's spy chief told the parliament that the militia was using hobby drones strapped with explosives for attacks on government forces. "The drones they are using are available in the market," said Ahmad Zia Shiraj, the head of the National Directorate of Security (NDS). Days before Siraj's revelation, Afghanistan's ToloNews reported on the authority of unnamed government officials that the Taliban had used improvised armed drones in some attacks. "The Taliban embed mortar rounds or small bombs with the drones and drop them on military and government installations," the channel quoted one official as saying. Such attacks were reported in the provinces of Kunduz, Logar, Balkh, Paktia and Faryab.
A month later, Afghan journalist Bilal Sarwary shared a video on his Twitter handle with description saying that an Afghan military officer in "Khost claims that a small drone of the Taliban stroked them with small bomb-like missiles. They have captured an exploded bomb, which seems locally prepared." Two days later, he shared photos of a quadcopter saying that Afghan commandos downed a drone in Charkh district of Logar province. "Weapons and ammunitions attached to drones are becoming the latest lethal trend on the Afghan battlefield," he wrote on Twitter.
The Taliban have fought a guerilla war against the US-led foreign forces for nearly 20 years. In asymmetric warfare, the insurgents are generally ingenious. They put their meager resources to good use compared to conventional militaries to fight a superior adversary. The Taliban have been doing just that.
Defence analyst Maj Gen (retd) Inamul Haq agrees that the Taliban might have been modifying consumer UAVs for combat operations long before the latest attacks. "They have been using armed drones very ingeniously," he told The Express Tribune. "In one case in Paktia province, a drone dropped a single mortar bomb on an Afghan position. Mortar is a high explosive bomb which detonates on impact. In another incident, they dropped 40mm grenades on the Afghan army positions from drones."
Experts are not sure if the Kunduz airport attack involved armed drones. "It's difficult to know exactly how it was carried out," Nick Waters, an analyst with Britain's open-source research group Bellingcat, told The Express Tribune. But he did not rule out the use of a quadcopter which could have been tweaked to use as a flying bomb to execute the attack.
"It's certainly a possibility – we've seen the proliferation of armed commercial drones across various conflict zones in the last few years, and there is evidence suggesting that the Taliban have been using armed drones," said Waters, who has also served in the British military.
Dr Peter W Singer, a US political scientist who specialises in 21st century warfare, concurs in that the Taliban may have incorporated weaponised drones into their arsenal. "It is highly possible. There have been various claims and media reports to that effect," he told The Express Tribune.
Haq, however, said he would not be surprised if the Taliban have destroyed Black Hawks using armed drones. "[If confirmed], it would be the second such incident. Earlier, they had destroyed a Black Hawk – in fact, two Black Hawks – in April [this year] as they claim – in Helmand province," he said. The helicopters had crash-landed after they were hit.
The Kunduz incident could have a huge psychological impact on the Afghan military, which is already facing a morale crisis. At the same time, it could encourage the insurgents to invest more heavily in the drone technology to turn these low-cost quadcopters into a mini air force of their own.
In Jan 2020, the Taliban flaunted a weaponised DJI Matrice 210 drone which they allegedly had seized from Afghan security forces during a night raid in the Garamsir district of Helmond province. It was equipped with a powerful Zenmuse Z30 zoom camera as well as a grenade-dropping tube.
Did the Taliban copy this advanced UAV?
"DJI Matrice 210 is a tethered drone which has multi rotors and is bigger in size. Irrespective of whether they actually captured a DJI Matrice 210 and copied it, they have been using commercial quadcopters available off-the-shelf for aerial reconnaissance and to cover their own attacks as early as 2016," said Haq.
The Taliban are often characterised as regressive, backward, and medieval, lacking modern scientific and technological knowledge. "That may be the brand, but the Taliban have long shown technical capability," said Dr Singer.
Consumer drones are easy to acquire and use, but the challenge is tweaking them to carry payloads. However, Dr Singer pointed out that it does not require sophisticated technologies. "This is not rocket science," he added. "Indeed, every insurgent group in the world now has access to everything from the Internet and cell phones to commercial drones."
Waters agrees. "Having seen the kind of IEDs that the Taliban used in Afghanistan, I'm confident they have the technical ability to improvise explosives to be dropped from commercial drones," he said.
IED, or improvised explosives device, was the weapon of choice for the Taliban during their protracted insurgency – and most of their deadliest attacks on the US-led coalition forces involved IEDs. Over the years, they mastered the science of IED-making. "Some of their IEDs were so sophisticated that it would be very difficult to neutralise them. If you neutralised one mechanism, there would be a second standby mechanism and a third mechanism," said Haq.
He doesn't agree with the stereotypical representation of the Taliban as a rag-tag medieval militia. "Well, rag-tag is a relative term. We use this terminology for them because we compare them with a super power [read: US]," he said. "Today's Taliban are educated. They have access to the Internet. They read stuff. They analyse things, watch videos and they can copy things quite effectively," he said.
The insurgents have been defeating American Humvees, which is an extremely robust tactical vehicle used by the infantry inside Afghanistan. They are the same guerilla fighters who had also neutralised the then state-of-the-art Soviet T-72 tanks using ingenious methods during the Soviet-Afghan War.
The Taliban have made significant territorial gains since the foreign forces started exiting Afghanistan. They claim to be in control of 85 per cent of the country, though they avowedly do not want to seize power militarily. They may have an edge over the Afghan security forces in ground combat, but the government has a clear advantage over the insurgency in the air.
Can the crude Taliban drones create a difference on the battlefield?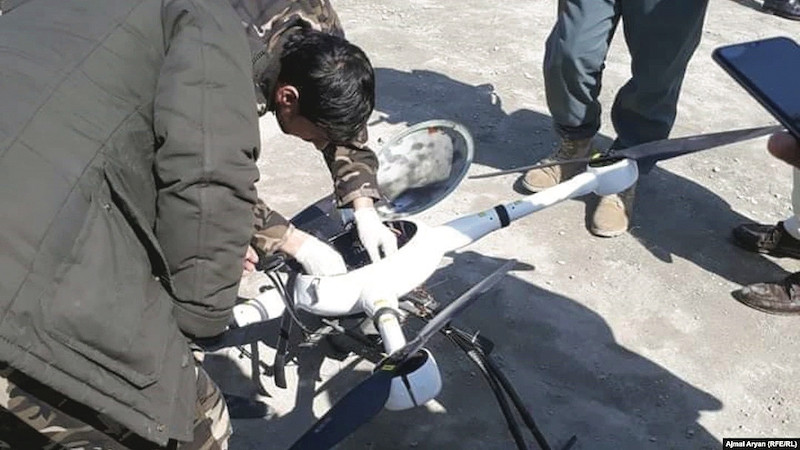 "Not major in terms of altering the very nature of the war, but it would be yet another problem for the government forces," said Dr Singer. "It is a special problem if used to take out their aerial units [because] the Afghan air force is the key to the regime's capability."
Haq, however, believes that if deployed in good numbers across Afghanistan, armed drones could become a "force multiplier" for the Taliban, especially at a time when the Americans are out of the scene. "This may help them capture cities because drones would provide them good reconnaissance on the Afghan army positions – something very important in CQC, or close-quarters combats," he added.
Waters also believes weaponised drones could make a difference, if the Taliban learn to use them effectively and at scale. "During the battle of Mosul, ISIS deployed a large number of these drones which played an important part in their strategy," he added. "Not only did these drones drop bombs, they also adjusted indirect fire, supported the tactical movement of troops and, perhaps most devastatingly, directed suicide vehicle-borne IEDs to their targets."
ISIS flew over 300 drone missions in one month when the US-led coalition forces were closing in on Mosul, Iraq, in 2017. "Over the last two months, coalition forces have observed about one adversary drone every day around Mosul," a US CENTCOM official told Defense One in a Jan 2017 interview.
The ultra-radical group launched a wide assortment of deadly UAVs – including grenade-launching and mortar-dropping drones – posing a real challenge for the US ground forces which had not come under attack from enemy aircraft since the Korean War 65 years ago. These drones gave ISIS its own mini air force, enabling intelligence, surveillance and reconnaissance as well as close-air support.
Is it easy to counter these "loitering munitions"?
"It is surprisingly difficult to counter what is in effect a toy drone," said Waters. "Firstly, they're very difficult to detect: they're small and, if they're high enough you're unlikely to hear them. Shooting at them with small arms is generally ineffective, and specialised drone jammers are only effective if you can make sure they're in the right place at the right time and the user can locate the target in the first place."
According to Dr Singer, it is doable but needs additional expense and equipment. "It requires a whole new layer of defence, combining both detection and then shoot-down. The shoot-down part can be anything from electronic jammers to systems that physically fire bullets at it."
The tactical advantage of low-cost drones may be limited, but their symbolic value against a bigger, powerful adversary is significant. And that is the reason this technology was, according to Dr Singer, embraced by "pretty much every insurgency in the world now, from Iraq to Mali".
After ISIS, Houthi rebels in Yemen have effectively used the UAV technology against the Saudi Arabia-led coalition they have been fighting for more than six years now. They deployed low-cost drones to carry out attacks in the Saudi cities along the Yemen border. The coalition said on June 20, 2021 that Saudi air defences had destroyed 17 armed drones launched by the rebels in a single day.
Though the Houthi "missiles have largely been intercepted by the coalition, unsophisticated UAV attacks are humiliating for a coalition led by the Middle East's largest military spender," wrote Dhia Muhsin, former assistant research analyst for Middle East and North Africa at the International Institute for Strategic Studies, in an August 2019 article.
The use of consumer UAVs is not limited to terrorists or insurgents. The trend was also mimicked by drug cartels and organised criminals. "Apart from conflicts all across the Middle East and North Africa, weaponised drones are also being used by cartels in Mexico and in an attempt to assassinate President Maduro in Venezuela," said Waters.
Mexican drug cartels use weaponised commercial drones for attacking rival gangs and smuggling drugs into the US. "Drones operated by terrorists and other malicious groups represent a wide variety of risks for security, especially at facilities such as airports, essential infrastructure, prisons, stadiums, military bases, and strategic facilities, among others," said Mexico's defence ministry in a classified document accessed by El Universal newspaper.
Globally, the militaries have long exclusively flown drones for reconnaissance and in combat operations. But this 21-century technology is now being widely employed in civilian settings. UAVs are used for leisure and to monitor crops, shoot aerial videos, protect wildlife, monitor traffic, deliver parcels, undertake search and rescue operations and monitor disaster zones.
According to a report compiled by the Drone Industry Insights, the international drone market will grow by 13.8% to more than $42.8 billion by 2025. The Asian market has already overtaken North America as the largest regional drone market. India, which legalized drones in Dec 2018, will be by far the fastest-growing commercial drone market, by 2025 becoming the 3rd largest commercial drone market in the world.
This massive commercial investment has led to civilian drones becoming cheaper, easily accessible and capable of carrying larger payloads. Paradoxically, for these very reasons, the UAVs have also become the greatest security risk as non-state actors – including terrorists, insurgents, and criminal groups – are increasingly using these civilian drones for attacks and intelligence gathering.
This makes it all the more important to regulate the use of drones. The best defence against the hostile use of this technology is to employ regulatory countermeasures, which can restrict the capabilities of off-the-shelf civilian drones and limit the ability of malicious groups to acquire and fly drones for sinister purposes.
"However, regulatory countermeasures to check the hostile use of drones by non-state actors are still not in effect. The Europeans are doing something about it but it is a half-hearted effort," said Haq. "The proliferation of drones in the hands of non-state actors and insurgents is at an alarming scale. This is considered aerial IED in future warfare."