Estimated reading time 5 minutes, 59 seconds.
The U.S. military's appetite for small vertical-lift drones could be worth more than $1 billion if both the Army and Marine Corps follow through on plans to equip every 10 troops with a "squadcopter," according to a new report on drone economics from aerospace investment firm Levitate Capital. 
Recognizing the tactical utility and relative affordability of small consumer drones, both services have for years advocated purchasing vertical-takeoff-and-landing unmanned aerial systems (UAS) for short-range recon missions.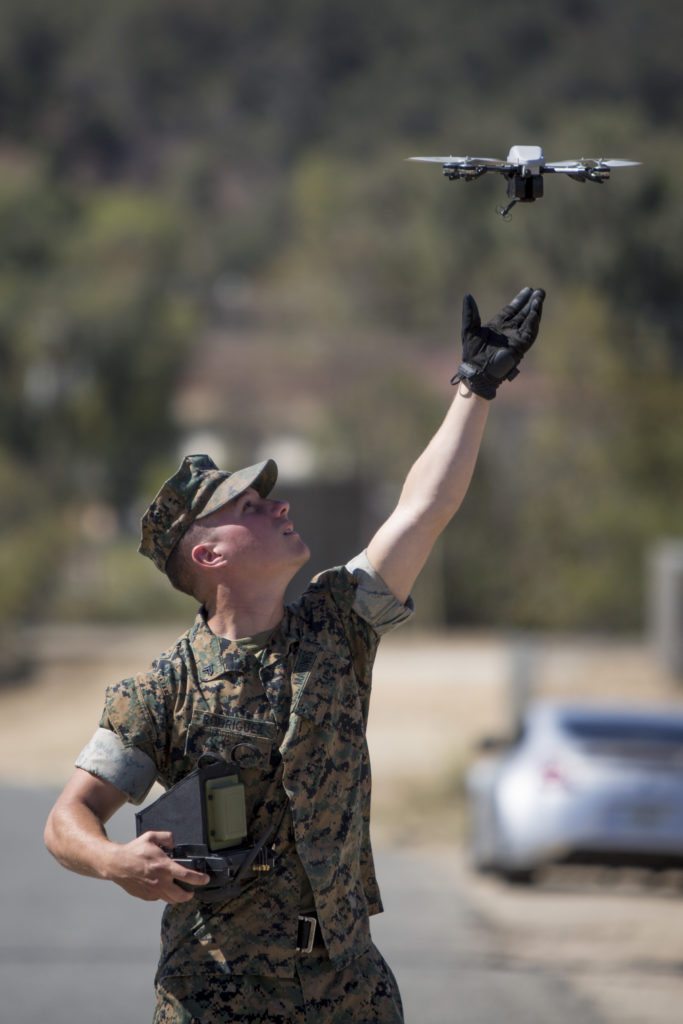 "Modern military ground forces will likely acquire at least one rotary drone per platoon to perform short-range, quick-look reconnaissance missions, resulting in a total addressable market of more than 19,000 units for the U.S. Army and U.S. Marine Corps (USMC)," the report found. 
The total investment expected by the Army and Marine Corps shakes out to $1.3 billion to equip every squad of 10 troops with a drone. At least $400 million would be needed to equip platoons of 36 troops with a drone and $60 million to field one drone per company of about 200 troops.
So far, neither service has solidified plans to field drones to every infantry squad, though high-ranking officers from both the Army and Marine Corps have called for expediting consumer-grade drones to combat units with some success.
Army units are fielding the Black Hornet 3 Personal Reconnaissance Systems (PRS) to many infantry units while developing larger drones for other missions under the Future Vertical Lift program.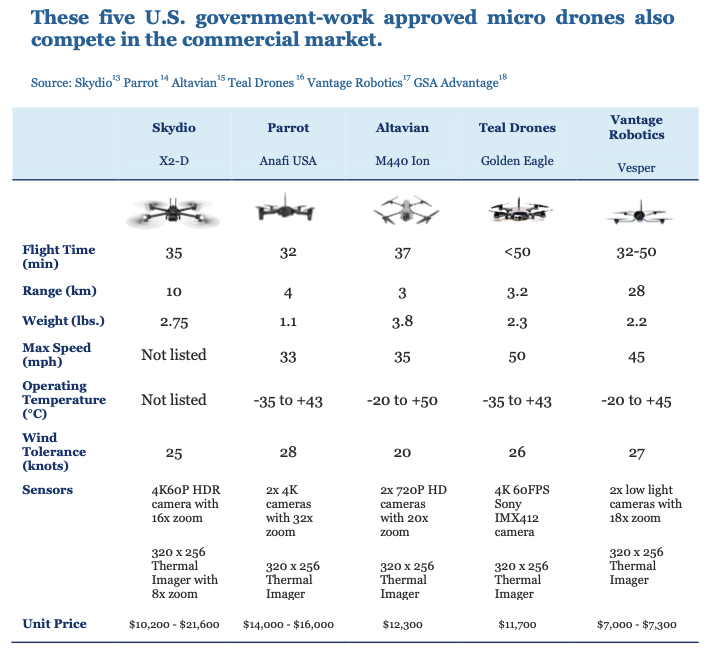 The Army is still searching for a commercial-style drone militarized for field use. It should be able to fly for half an hour with a range of just under two miles and be light enough for a single soldier to carry it on patrol.
Then-Commandant of the Marine Corps Gen. Robert Neller in 2017 called for fielding small quadcopters to every deploying rifle squad "across the entire force." Plans are to eventually equip every squad throughout the 24 existing Marine infantry battalions or about 4,000 small UAS. 
"They're like $1,000 bucks and I'm not advocating for any particular manufacturer," Neller said at the 2017 Modern Day Marine Expo in Quantico, Virginia. The U.S. military market for small drones is likely to be a sustained one with multiple opportunities for entry, given that commercial/consumer technology is outpacing the military's ability to buy and field them. 
Combat units have fielded fixed-wing UAS like the RQ-11 Puma, RQ-20 Puma and RQ-21 Blackjack since the 2000s. The Army in May awarded Aerovironment a $76 million "lethal miniature aerial missile systems contract for the Switchblade kamikaze drone. But "rotary drones . . . have been notably absent from military toolkits, because of their slow speeds, short battery lives, and fragility compared with fixed-winged alternatives," Levitate's report said. That could soon change as small VTOL drone development has resulted in longer ranges and greater payload capacity. 
"Improvements in rotary drone performance and the integration of powerful onboard sensors have unlocked tactical use cases for military adoption," the report said.
Security concerns over commercially available drones have stymied efforts to field tactical drones in many cases. Quadcopter and associated technologies made by industry leader DJI, a Chinese company, have been prohibited since 2017. In 2018, the Defense Department outlawed off-the-shelf drones altogether until certain models could be vetted for potential military service.
In August 2020, the DoD's Defense Innovation Unit (DIU) approved five U.S.-made multi-rotor drones for use in government applications. Skydio, Altavian, Teal Drones, Vantage Robotics, and Lumenier together are sharing $11 million to develop military versions of their consumer drones.