When it comes to drone technology, it's all about reaching the point where drones can fly beyond visual line of sight (BVLOS). As drone technology advances, companies are increasingly making announcements like this most recent one from drone maker France-based Thales, which just completed the first flight of a half-scale prototype of its UAS 100 long-range unmanned air system.
In construction, this is important because it brings the industry one step closer to an increased use of drones on job sites, to collect data, take aerial photos, monitor project progress and inspect structural integrity of buildings and infrastructure. To make drones more of a reality on job sites, drone technology needs to advance, especially in terms of how far drones can fly and how much weight they can carry, among other factors. 
Developed in partnership with Issoire Aviation and Hionos, and with the support of the French Ministry of the Armed Forces via the Defence Innovation Agency (AID), the Thales UAS100 will help meet demand for more cost-effective drone missions with a lower environmental impact.
Watch a Thales drone test flight:
Unmanned air systems (UAS) have significant commercial potential, with hundreds of thousands of drones due to enter service over the next 10 years. As a result, airspace management and the aerospace ecosystem will become considerably more complex, creating new safety and security challenges and forcing civil aviation authorities to tighten their regulations.
To meet these challenges, Thales is proposing a long-range, long-endurance UAS developed with the support of the AID and capable of meeting future flight safety, security and certification requirements.
UAS100 will meet mission requirements while operating in full compliance with general aviation regulations, according to Thales. Its flight avionics combine the certified levels of flight safety and security of Thales's technology for the aerospace sector with the low weight and compact design needed for integration on board a light UAV.
Thales UAS 100 drone.Thales
Longer Range and More Secure
The UAS 100 system will offer range capabilities in excess of 62.1 mi./100 km and its jam-resistant navigation system will ensure safe operation even in dense or cluttered electromagnetic environments. 
The drone is powered by two electric motors as well as an internal combustion engine, for the discretion needed to accomplish its missions and operate over populated areas, while ensuring the necessary endurance and resilience to failure.
With a level of system redundancy and high security specifications, the Thales drone is expected to natively meet the requirements of the new European SC-LUAS (Special Condition – Light Unmanned Aircraft Systems) regulations.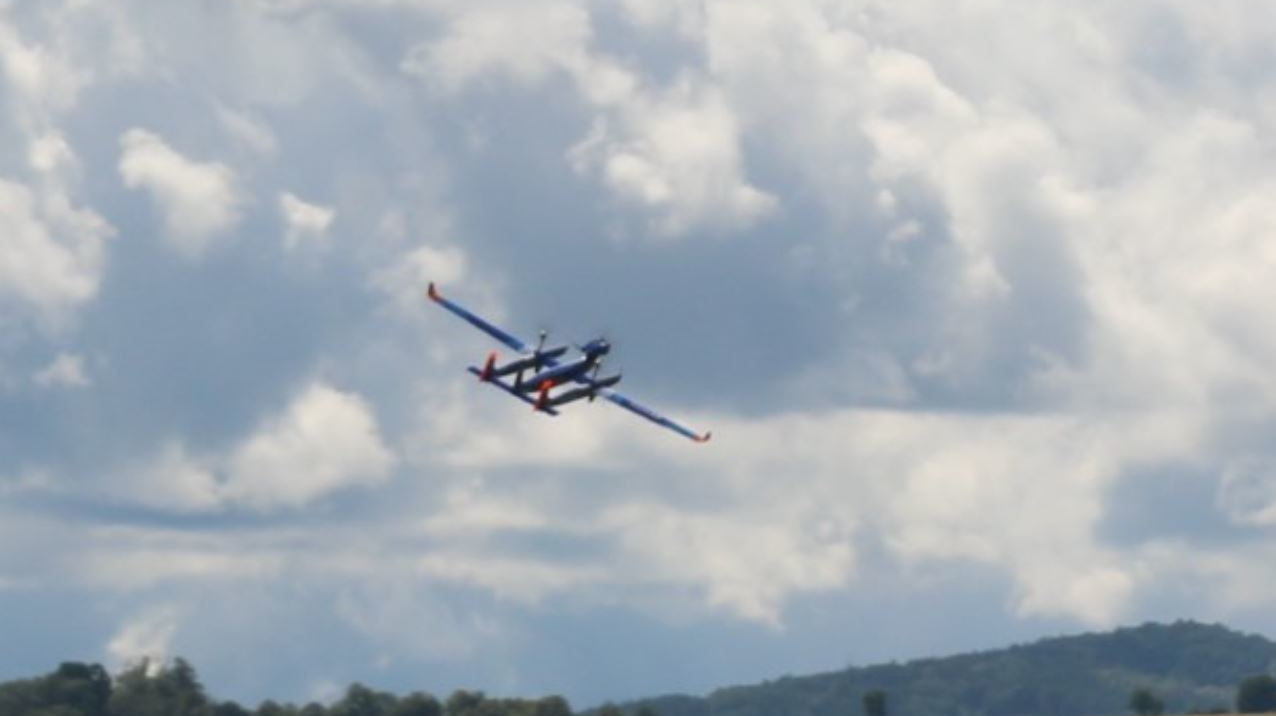 Thales UAS 100 drone in flight.Thales
The system will reduce operating costs and improve the environmental footprint of drones, opening up new opportunities for inspection and surveillance operations and expanding the capabilities of government services and the armed forces.
The innovation has been developed in close partnership between Thales, Issoire Aviation and Hionos. Issoire Aviation, pioneer of the all-carbon aircraft, has provided unique know-how in aerostructure design and manufacturing, while Hionos has made an contribution to the project with its autopilot software solutions for drones.