by Larry Grooms, special to Aerotech News
With three American and one Anglo-American company representing the top four on a list of the world's seven largest makers of military unmanned aerial vehicles, it might come as no surprise to learn each of four leaders has a major presence in Southern California's Aerospace Valley.
The rankings, appearing in a 2019-20 article written by Sudeep Chakavafty and published online by the business financial consulting firm Market Reports, listed the seven in descending order:
• General Atomics Aeronautical Systems Inc.
• Northrop Grumman Corporation
• The Boeing Company
• BAE Systems
• Israel Aerospace Industries (ISA)
• Dassault Aviation SA.
• Nexter Systems
General Atomics Aeronautical Systems
San Diego-based General Atomics Aeronautical Systems, with flight test facilities at Grey Butte Airport near Palmdale in Los Angeles County, and at El Mirage Airport and Adelanto in San Bernardino County, introduced the remotely piloted Predator for aerial reconnaissance in the early 1990s.
After the first Predator flight at El Mirage on July 3, 1994, the company embarked on a continuing series of refinements and upgraded mission capabilities culminating in a series of newly numbered variations and names, including Reaper and Avenger.
Although intended as a stealthy spy in the sky, the military quickly found interest in upgrading the new drone to pack AGM-114 Hellfire missiles and other munitions. The beefed-up Predators were slow and quiet in sneaking up on targets that never heard the missile hitting at supersonic speed.
Between 1995 and 2018, General Atomics delivered well over 400 UAVs to customers worldwide. The company is currently in process of renewing its conditional land use permit for the Grey Butte Airport where nearly all its UAVs are flight-tested. Recently the company asked for regional community support for renewal of the permit which is reviewed every 20 years.
 
 
Northrop Grumman's Global Hawk
Northrop Grumman's manufacturing operations, occupying about 85 percent of all the buildings on Air Force Plant 42 in Palmdale, produces the RQ-4 Global Hawk family of unmanned aircraft systems to provide long duration intelligence, surveillance and reconnaissance information. Flying at altitudes greater than 60,000 feet for more than 30 hours, Global Hawk is designed to gather near-real-time, high-resolution imagery of large areas of land in all types of weather — day or night.
In active operation with the U.S. Air Force since 2001, the High Altitude, Long Endurance (HALE} System allows customers to select mission parameters custom-fitted into a common RQ-4 Global Hawk airframe, with names to match the missions for land or sea, search and rescue, weather forecasting or environmental research.
Global Hawk amassed more than 320,000 flight hours with missions flown in support of military operations in Iraq, Afghanistan, North Africa, and the greater Asia-Pacific region. The system provides an affordable and flexible platform for multiple sensor payloads to be used together, delivering mission-critical information to various users around the world.
 
 
Boeing's MQ-25 Stingray & Autonomous Systems
Boeing's MQ-25 Defense Systems Industry Team is all-in on delivering aerial refueling and other capabilities to help the U.S. Navy extend the range of the carrier air wing. And among the leading contributors aligned with Boeing's industry team is U.K.-based BAE Systems, with offices and facilities at Mojave Air and Space Port.
The bulk of MQ-25 development, production and testing has been carried out at Boeing's facilities in and near St. Louis, Boeing's industry was strengthened by the Aug. 30, 2018 Navy award to Boeing of an $805 million contract for four MQ-25A models to be completed by August 2024.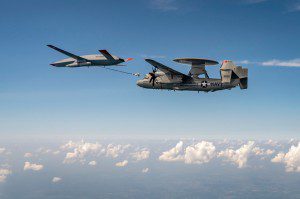 More recently, on June 4, 2021, an MQ-25 T1 refueled a Navy F/A-18 at MidAmerica Airport in Illinois. It was the first ever aerial refueling in which a piloted aircraft was refueled by an unmanned tanker.
The Navy also recently gave Lockheed Martin the go-ahead on building a ground control station for the MQ-25, not just for cyber protection but to have the architecture for the Joint All-Domain Command and Control concept.   
The Navy will rely on multiple communications links to control and execute missions for the MQ-25. The system will include the Lockheed Martin Mobile User Objective Satellite for Over-the-Horizon Control.
Initial operational capability for the MQ-25A is slated for 2025.