Check out the Sept. 5 edition of What's Trending in Aerospace, where editors and contributors for Avionics International bring you some of the latest headlines and updates happening across the global aerospace industry.
Commercial 
Raytheon Technologies To Acquire FlightAware 
Raytheon Technologies on Aug. 30 said its Collins Aerospace segment has agreed to acquire FlightAware, which provides global flight tracking services and analytics to a range of customers including airlines, airports and government.
Terms of the deal, which is subject to regulatory approval, were not disclosed. Houston-based FlightAware has about 130 employees.
"Global connectivity now shapes and impacts every segment of aviation," Dave Nieuwsma, head of avionics at Collins Aerospace, said in a statement. "FlightAware is the recognized leader in data collection, analytics, and customer experience, which will help Collins unlock the full power of the connected ecosystem for our customers. FlightAware's flight tracking and data platform, the largest in the world, has the potential to deliver new capabilities and innovations across our entire business."
EASA Updates Deviation on Transportation of Cargo in Passenger Cabins
The European Union Aviation Safety Agency revised its deviation for the transport of cargo in passenger aircraft cabins.
According to an Aug. 27 press release, the agency's third revision of the deviation extends the validity of the policy until July 31, 2022 and clarifies some "interpretative material wording."
FAA Releases Data Showing Trends in Dangerous Laser Strikes 
Laser strikes increased in 2020 despite the decrease in flights due to the COVID-19 pandemic, according to a Sept. 1 FAA press release. Pilots reported 6,852 laser strikes to the FAA last year, up from 6,136 in 2019.
"Pointing a laser at an aircraft can temporarily blind a pilot and not only affects the crew but endangers passengers and the communities they fly over every night,"  FAA Administrator Steve Dickson said in the release.
The number of incidents reported in 2020 was the highest annual total since 2016.
Boeing Elects David L. Joyce to Board of Directors 
The Boeing Company's board of directors today announced in an Aug. 31 press release that David L. Joyce has been elected to the board, effective immediately. He will serve on the Aerospace Safety and Compensation committees.
A 40-year GE veteran, Joyce joined GE Aviation in 1980 as a product engineer and spent 15 years designing and developing GE's commercial and military engines, before serving in a variety of leadership positions in GE Aviation, including vice president and general manager of Commercial Engines, according Boeing.
"Boeing will benefit from David Joyce's deep aviation experience and broad industry relationships," David Calhoun, Boeing president and CEO, and member of the board of directors said in the release. "David's experience transforming businesses and focus on quality and safety in the aerospace industry will further strengthen our board."
ASTM International and EUROCAE Partner on Technical Solutions 
ASTM International and European Organization for Civil Aviation Equipment (EUROCAE) have formed a new partnership that will allow the standards organizations to share information with the aim of reducing duplication and increasing the compatibility of technical solutions for global aviation, according to an Aug. 27 release. 
"ASTM International is very pleased to establish this cooperation agreement with EUROCAE as it builds on our existing relationship and positions us to work more collaboratively and efficiently in the future," ASTM International Vice President of Global Policy, Cooperation and Communications Jeff Grove said in a statement. 
The organizations will be working on opportunities to collaborate on development processes, technical standardization dialogue, sharing information on emerging technologies and regulatory drivers, and coordinating program work, according to the release. 
Air Traffic Management
Eurocontrol Breaks Ground on New Operations Center in Brussels
Construction work on the new Eurocontrol Network Manager's operations centre in Brussels has officially commenced with a 'breaking ground' event attended last week by Eurocontrol Director General Eamonn Brennan, Philippe Close, Mayor of the City of Brussels and Alain Hutchinson, Brussels Commissioner for Europe and Intergovernmental Organizations.
The €20.5 million building is set to host state-of-the-art operational systems and IT infrastructure as the organization embarks on its integrated Network Management (iNM) digital transformation program, according to an Aug. 30 press release.
"With up to 35,000 flights a day expected in the coming decade across a network spanning 43 States, this new building will play a key role in helping EUROCONTROL modernise the way we manage capacity, reduce delays and minimise environmental impacts," Eamonn Brennan, director general of Eurocontrol said in the release. "Our new building will become the home of state-of-the-art digital solutions to optimise air traffic operations and will render the management of the European network resilient, reliable and sustainable in the decades to come."
Military
Lockheed Brings F-16 Manufacturing to Pennsylvania 
Lockheed Martin's new F-16 manufacturing work will now be completed at its Johnstown, Pennsylvania facility, according to a Sept. 2 release. 
To accommodate the work, the company will lease a new building and bring 80 new jobs to the city, according to the release. 
"Johnstown's selection for this new work reflects the highly skilled workforce in the area, a record of quality production and the space available to expand," Wayne Davis, director at Lockheed Martin's Johnstown site, said in a statement. "We are proud to grow our presence in Johnstown and to contribute to the acceleration of jobs."
Early work on this effort will begin this year and ramp up in 2022. 
Demilitarization of 73 Aircraft in Kabul May Have Involved 8 Types
Marine Gen. Kenneth Mckenzie, the head of U.S. Central Command (CENTCOM), on Aug. 30 said that the U.S. military had demilitarized 70 Mine-Resistant Ambush Protected vehicles, 27 Humvees, Raytheon Technologies-built C-RAM Intercept Land-based Phalanx Weapon Systems, and 73 aircraft at Hamid Karzai International Airport (HKIA) before the departure of U.S. forces.
While McKenzie did not specify the 73 aircraft demilitarized and neither CENTCOM nor the Pentagon nor the State Department have responded to requests to detail those aircraft, the latter are likely limited to at most eight types–Lockheed Martin C-130 transports and UH-60 Black Hawks, MD Helicopters' MD-530 Cayuse Warrior attack helicopters, Embraer–Sierra Nevada Corp. A-29 Super Tucano light attack aircraft, Cessna and Northrop Grumman AC-208 and C-208 light attack/reconnaissance/utility aircraft, Boeing CH-46E Sea Knights used by the State Department for personnel transport and evacuation, and Russian Mi-17 helicopters, which the Afghan Air Force (AAF) had turned to in the last several years, per the DoD Inspector General, for their relative ease to fly and maintain and their higher lift capacity, compared to the Black Hawk.
AUSA To Require COVID Vaccine Or Negative Test Result For Annual Meeting Attendees
The Association of the United States Army (AUSA) said Friday it will require either proof of COVID vaccination or a negative test result to attend its annual meeting this October in Washington, D.C.
AUSA is still planning to move forward with the in-person event, one of the largest defense shows of the year, with the additional measures in place due to the national surge in Delta-variant COVID-19 cases.
"We are excited and looking forward to welcoming everyone back to the in-person AUSA Annual Meeting from 11 – 13 October 2021 and are adapting our plans following recommendations from the convention center, District of Columbia and Centers for Disease Control and Prevention. The health and safety of attendees, presenters, exhibitors, staff and the local community continue to be our top priorities as we count down to this year's important event," event organizers wrote in a statement.
Business & General Aviation 
Gulfstream G700 Sets First International City-Pair Speed Records
An all-new Gulfstream G700, the largest aircraft in Gulfstream's fleet, set its first ever city-pair speed records from Savannah to Doha, Qatar, and then from Doha to Paris, according to a Sept. 1 press release.
A fully outfitted G700 production test aircraft completed the flight from Savannah to Doha, a distance of 6,711 nautical miles/12,428 kilometers, at an average speed of Mach 0.88 in 13 hours and 16 minutes, Gulfstream said in the release. The aircraft then set another city-pair record from Doha to Paris, flying 2,953 nm/5,469 km in 6 hours and 15 minutes at an average speed of Mach 0.90.
"These were the first international flights for the G700, and it performed exceptionally well, setting two new records in the process," Mark Burns, president, Gulfstream, said in a statement. "We are excited to introduce the G700 in person to customers in the Middle East and Europe and are proud that we can do so while also demonstrating our commitment to sustainability at the same time."
Unmanned
Skyports and Kencoa Aerospace Collaborate to Bring Drone Delivery to Jeju Island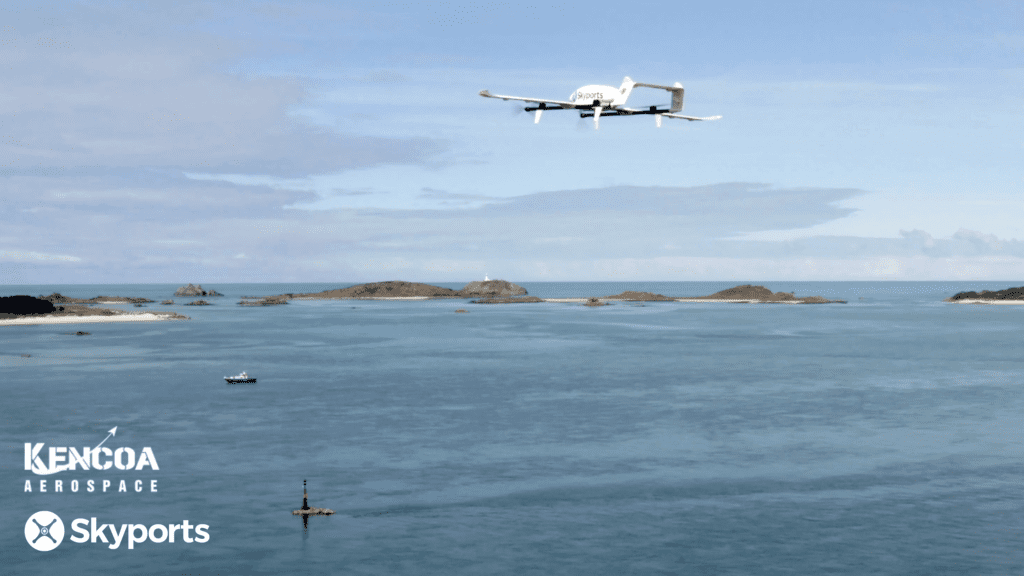 Skyports and Kenoca Aerospace have signed a memorandum of understanding that will enable cargo drone deliveries of critical supplies on South Korea's Jeju Island, according to a Sept. 1 press release. 
"Through this partnership with Skyports, a global technology leader in the AAM industry, we will commence drone deliveries in Jeju Province before establishing AAM infrastructure and expanding into the air taxi industry," Kenny Lee, CEO of Kencoa Aerospace, said in a statement. "Jeju's excellent tourist resources will promote the commercialisation (sic) of our AAM services. The strength of this partnership will enable the fastest commercial launch in Korea."
Skyports will present a proof-of-concept demonstration of its beyond visual line of sight (BVLOS) capabilities and perform a feasibility assessment for vertiports for the project, according to the release. 
"South Korea is ripe with opportunity in the advanced air mobility space, and Jeju Island's specific volcanic and island geography provides a unique backdrop on which to demonstrate the benefits of drone logistics," Duncan Walker, CEO of Skyports, said in a statement. "With our BVLOS cargo drone operations, delivery services on the island will be up to six times faster, with carbon emissions reduced by up to 90%. Drone deliveries have the potential to totally transform services for residents and healthcare providers, and we're excited to be amongst the first movers in South Korea – and globally." 
eVTOLs
Microflite and Eve Partner for UAM in Australia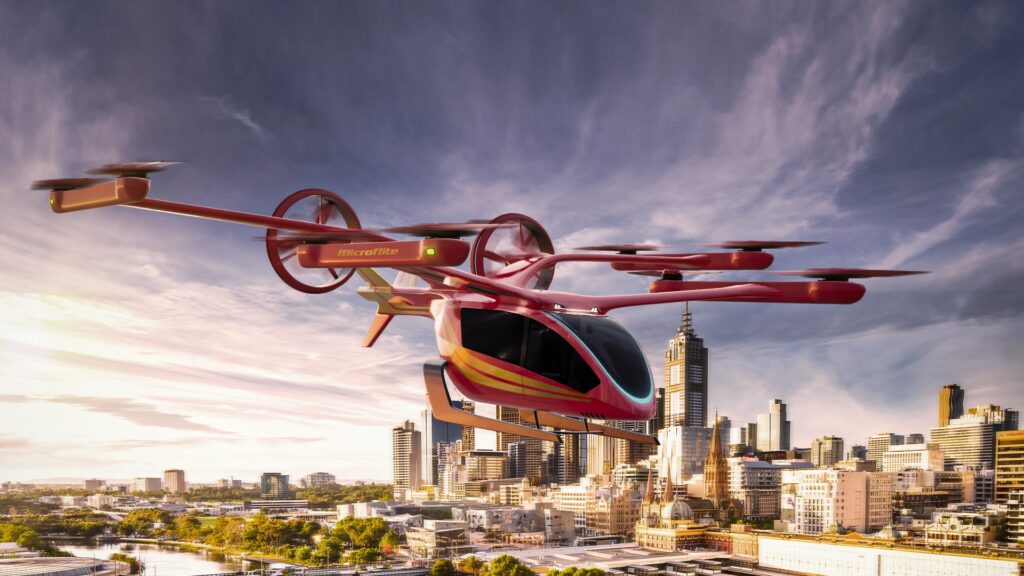 Helicopter operator Microflite and Eve Urban Air Mobility are partnering to bring urban air mobility operations to Australia in 2026, according to a Sept. 2 press release. 
"Our partnership with Microflite allows Eve to inject innovation and new mobility solutions within the Australian market. We can deliver a comprehensive solution, including maintenance services and air traffic management, getting ready to introduce our aircraft to Australia, while benefiting from Microflite's extensive local operational experience," Andre Stein, President & CEO of Eve Urban Air Mobility, said in a statement. 
The partnership will use Microflite helicopters to develop a proof of concept for air taxi operations, according to the release. The companies will also work together on services and procedures for UAM operations. 
"This partnership is an exciting development for Microflite. Australia needs a post-COVID lift and what better way to do that than by developing high-tech and low carbon jobs that support transport, tourism, and the vibrancy of this wonderful country. Microflite will work closely with Eve and its partners to evaluate the best path to bring this innovative service to customers,"  Jonathan Booth, CEO of Microflite, said in a statement. 
NASA Begins First eVTOL Test of AAM Campaign with Joby 
NASA has begun the first electric vertical takeoff and landing (eVTOL) flight test of its Advanced Air Mobility (AAM) National Campaign with Joby Aviation, the agency announced on Sept. 1. 
The AAM National Campaign is a multi-year effort to assist with the integration of AAM vehicles into the national airspace. NASA's tests with Joby are occurring ahead of the first set of National Campaign tests, referred to as NC-1, that are planned for 2022. NC-1 will include more vehicle partners and flight scenarios. 
"The National Campaign Developmental Testing is an important strategic step in NASA's goals to accelerate the AAM industry timeline," Davis Hackenberg, NASA AAM mission integration manager, said in a statement. "These testing scenarios will help inform gaps in current standards to benefit the industry's progress of integrating AAM vehicles into the airspace." 
MetroWeather Joins TruWeather to Advance UAM Weather Observation Infrastructure 
MetroWeather has signed a contract to join TruWeather's small business innovation research (SBIR) contract with NASA to build urban weather observation infrastructure, according to an Aug. 29 press release. 
This weather infrastructure will be used to advance weather reports for commercial urban air mobility vehicles, according to the release. 
MetroWeather will provide an optimal sensing algorithm and sampling strategy for simulated lidar measurements for the contract, according to the release. 
The contract is currently in Phase 1 and the companies will be working towards a Phase 2 contract to contract an Urban Wind Experiment. 
Space 
Report: FAA Grounds Virgin Galactic's Spacecraft to Investigate Branson Flight Issues
The Federal Aviation Administration (FAA) grounded Virgin Galactic on Thursday, as the federal regulator investigates the company's previous spaceflight that carried founder Richard Branson, according to a Sept. 2 CNBC article. FAA officials are reportedly focused on a deviation by the SpaceShipTwo spacecraft during its July 11 flight.
"Virgin Galactic may not return the SpaceShipTwo vehicle to flight until the FAA approves the final mishap investigation report or determines the issues related to the mishap do not affect public safety," the FAA said in a statement to CNBC.
"The FAA is responsible for protecting the public during commercial space transportation launch and reentry operations. The FAA is overseeing the Virgin Galactic investigation of its July 11 SpaceShipTwo mishap that occurred over Spaceport America, New Mexico. SpaceShipTwo deviated from its Air Traffic Control clearance as it returned to Spaceport America," the regulator added.
On Sept. 2, Virgin Galactic published a press release outlining its next "Unity 23" mission.
Analysts Examine Industry Trends for SATELLITE 2021
Ahead of the 2021 SATELLITE show occurring Sept. 7-9, Via Satellite published this article featuring industry analysts sharing thoughts on what they'll be watching for at this year's event.